35+ Free Embroidery Patterns and Tutorials
Step up your embroidery skills with these free sewing patterns and easy embroidery tutorials! This page is full of free printable embroidery stitch instructions and unique designs to make.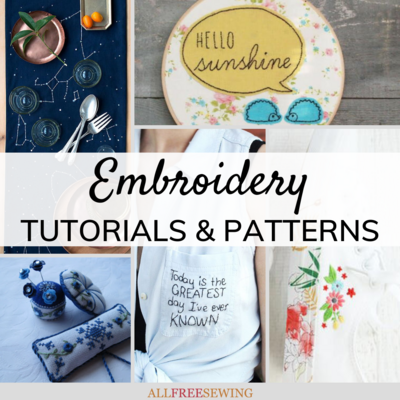 This page of free embroidery patterns and tutorials contains how-tos on how to stitch as well as offers free printable templates for hand embroidery.

It doesn't matter if you have never learned how to embroider; these tutorials will show you how!

If you are a big fan of adding some flair to your projects or home, it might be time for you to learn how to embroider. Embroidery is a stunning way to add extra stylish stitches to simple or plain projects and places.

Use these awesome embroidery patterns to put a surprising design on your wall or add embroidery patterns to the pocket of a tee to add your own flair.

No matter where you decided to add embroidery stitches, these small (or big) details are sure to turn heads and make it all too clear that you are a sewist with style.

Peruse this adorable collection of free embroidery patterns and learn how to embroider in ways that might surprise you, whether you want to use hand sewing techniques or a machine for embroidery.

Sign Up For More Free Patterns >>>

PLUS! Don't miss this easy video tutorial for how to embroider with a lazy daisy stitch. It's straight from our craft studio! Check out our resources right below for more.
Table of Contents
But First: Embroidery Resources
If you're a beginner or need a refresher on some of the most common embroidery stitches or other embroidery tips, then you'll want to take a look at these resources.

Lots of video tutorials to walk you through the motions, along with other helpful PDFs and guides on prepping and working through your next project.

General Resources:
Video Tutorials:
Traditional In the Hoop Embroidery Tutorials & Patterns
When you think of traditional embroidery patterns, you probably think of a cute and stitched design surrounded by an embroidery hoop.

These smart and cute ideas are exactly that. Totally unique, these DIY embroidery designs will look great hanging on your walls. You could all these embroidery templates onto shirts and quilts, as well. See more of that in the next section.
Embroidery Crafts for the Home
What's better than creating a beautiful embroidered piece for your home? Use your talents to decorate towels, table runners, pillows, banners, and even some useful items for your craft room. Once you learn how to draw embroidery designs on cloth and other fabrics, you won't be able to stop.

The beauty of these projects is that you can adapt and modify as needed to fit your colors, themes, and embroidered messages. Make it your own by following the basic idea or instructions and changing it up where needed.
Embroidery Patterns for Clothes
Give new life to old pieces of clothing by learning how to embroider an accent or mending them in a different way. These lovely embroidery patterns and tutorials for clothing are something special.

It doesn't matter if you're sewing clothes from scratch or upcycling an old thrift store shirt, you'll find that embroidery can add that missing touch you've been looking for to finish. With these projects, you'll learn how to do embroidery on clothes by hand.
Unique Embroidery Patterns and Ideas
Bring the art of embroidery to somewhere new and exciting with these embroidery pattern ideas. Whether you are sewing for the kitchen or upcycling an accessory or wearable piece (like shoes!) by learning how to embroider an accent, these free embroidery patterns and tutorials are something special.

We love incorporating delicate sewing into all sorts of everyday objects. Like visible mending, it adds an unexpected touch that no one else can replicate.
Pin This Collection on Pinterest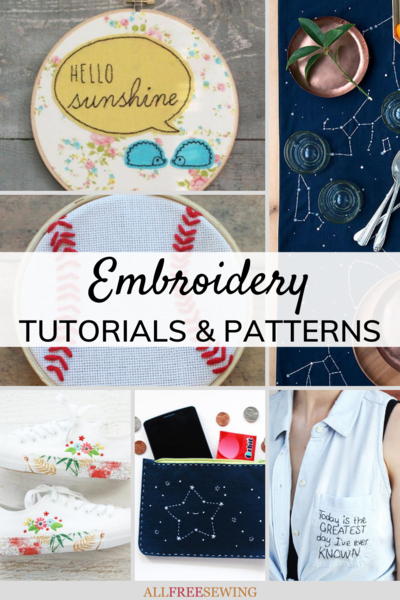 Your Recently Viewed Projects