45+ Pin Cushion Patterns
You'll be inspired to learn how to make a pincushion when you see these adorable patterns!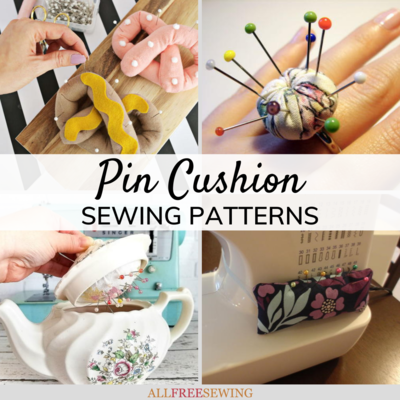 Do you love to sew? Of course you do! That is how you know that every good sewist needs a great pincushion by his or her side. There is no better way to get your hands on a pincushion than to sew it yourself. (Sewing your own pincushion is pretty meta, huh?)

With this collection of 45+ Pin Cushion Patterns at your fingertips, you'll be inspired to create a beautiful and functional sewing craft that will help you stay organized — and keep those needles and pins in one place.

From animal patterns such as a porcupine to wearable accessories, including watches and rings, we have gathered the best and cutest pincushion patterns around. It won't be hard to find your needles when you make these adorable and unique designs!

Sewing pincushions is also a fun way to make a dent in your fabric stash, as the projects use only small amounts of fabric. These fun sewing projects would also make creative gift ideas for the sewists in your life.

Sign Up For More Free Patterns >>>                 
BONUS! Learn how to make a pincushion when you take a look at our free video on How to Sew a Quilted Pin Cushion. This easy sewing pattern is just what you need to create a colorful addition to your sewing gear.
Table of Contents
Embroidered and Quilted Pin Cushion Patterns
If this will be your first time making a pincushion, then you can't go wrong with these patterns! More advanced sewists will also enjoy these projects, as the pincushions can be made in very little time and with minimal effort.

Creative as can be, these embroidered and quilted designs don't hold back when it comes to delightful appearances. You will be so proud to use these finished projects!
Upcycled Pin Cushion Patterns
Hello, scrapbusters! Use what you already have in your home to make upcycled and repurposed DIY pin cushions! From a scrap-busting design to a tiny bottlecap pincushion pattern, these projects are perfect for those who are new to sewing, budget-conscious or want to think outside of the box.

Your level of imagination is your only limit when it comes to upcycling fabric and embellishments to make any of these free pin cushion patterns. Use these for inspiration or follow the tutorials and patterns to a T to improve your sewing room.
Novelty Pin Cushion Patterns
What can be cuter than a pincushion in the shape of a strawberry, a porcupine, or even a zombie? If you want to add an adorable accessory to your sewing gear, then these pincushion projects are for you.

From food to animals and even the more obscure, you'll find just the right pattern that will fit both your personality and your own style. These whimsical designs are almost too cute to use and will make wonderful gift ideas for the holidays, birthdays, and even weddings.
Ring and Wrist Pin Cushions
It's one thing to make a pincushion that is ready for use. But keeping that pincushion nearby while you're in the midst of a project? Now that's another story. These pincushion accessories are perfect for the sewist on the go, as they can be worn on your wrist, your fingers, or even attached to your sewing machine.

You'll find what you need in no time with these projects! If you don't want to waste time searching for your needles every time you start a project, then these pincushion patterns need to be on your radar.
Vintage Style Pin Cushions and Accessories
These cute pincushion ideas may be in more classic styles but that doesn't mean they aren't fun, colorful, or creative. These pretty pin holders will look amazing in your sewing room.

Reach in your scrap fabric stash and get sewing with these projects. This section also features pin cushion combo accessory projects. From thread catchers to organizers, these projects are fun and interesting takes on the traditional pincushion.
Your Recently Viewed Projects