20+ Flannel Sewing Projects
Whether you are looking for flannel scraps projects, Christmas crafts with flannel, or another cozy craft, you will find it here!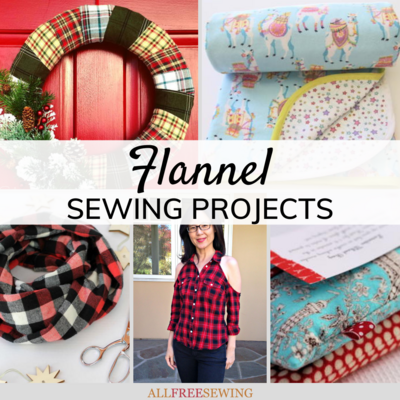 When cooler weather comes around, you're going to want to surround yourself with ALL the cozy things. And lucky for you, our collection of 20+ Flannel Sewing Projects does have it all!

You'll have dreams of curling up on the couch with a warm cup of coffee, tea, or cocoa when you see what cozy and warm projects you can make with flannel fabric.

This list of fantastic flannel patterns to sew includes clothing for both adults and kids of all ages, such as this classic flannel shirt sewing pattern.

You'll also find lots of sewing patterns for accessories using flannel fabric, including scarf sewing patterns. Don't forget to check out the section on DIY home decor projects and blankets! So popular and fun to sew.

Here, you'll find tutorials for how to make a flannel blanket and many more home decorating sewing projects of all kinds.

Sign Up For More Free Patterns >>>              
Before you begin, make sure to check out the AllFreeSewing guide to sewing with flannel. You'll learn what flannel is made of as well as how to wash the fabric (and your finished project) by hand and in your washing machine.

It's a helpful guide that you won't want to miss before you begin sewing up your warm and cozy flannel project! Then scroll down for our favorite flannel sewing projects, from accessories and home decor to wearables and gifts.

PLUS! Learn all about Working with Different Types of Fabrics with this video tutorial. Our friend Angel will walk you through the various popular options there are for sewing and when to choose what.
Table of Contents
Your Recently Viewed Projects