40+ Printable Sewing Patterns for Beginners
From designer accessories to adorable baby bibs, this collection of free printable sewing patterns has a tutorial for every beginner sewist.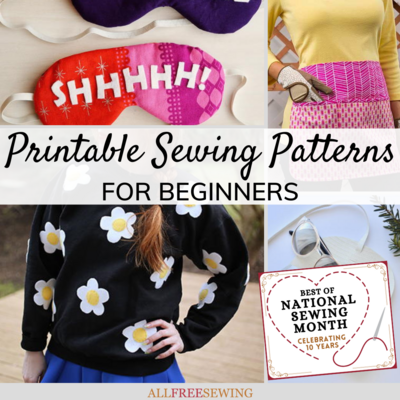 When you're starting out as a sewist, it's easy to be overwhelmed. With so many advanced, complex, and frankly nonsensical patterns out there, it may seem like there's no way for you to safely practice your skill.

Good news: you never have to agonize over difficult patterns again! Simplify your sewing world with this ingenious collection of 40+ Printable Sewing Patterns for Beginners, and you'll be sewing up a storm in seconds!

There's no need to get out a sewing term glossary when you're working from these beginner sewing patterns. All of these free tutorials are simple enough for a novice to breeze through, requiring nothing except basic sewing skills.

That's not the best part, though. Not only is this collection beginner-friendly, but it's also 100% printable! You don't have to pay an arm and a leg to get premium sewing patterns here. With these free PDF patterns and your home printer, you could transform your home into a beginner sewist's paradise!

There's nothing like sewing from the safety of a pre-printed pattern, and now you have all of the printable sewing patterns for beginners you could ever dream of!

Whether you're looking to sew some stunning DIY throw pillows or a dress-up costume for your little one, this list has a pattern for you.

PS: This article is part of our National Sewing Month Celebration! Check it out here + enter to win our 5 free giveaways worth more than $1,000!

Sign Up For More Free Patterns
Table of Contents
First! Printable Sewing Practice Sheets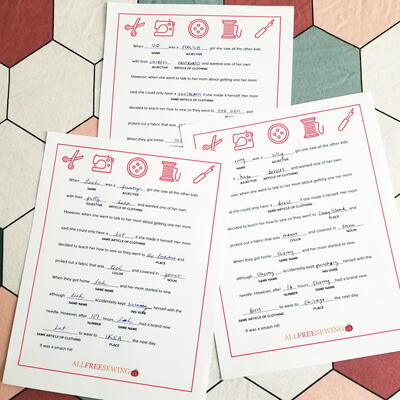 If you're a beginner, then you might need a little extra practice. We've got you! In this section, find hand sewing practice sheets involving shapes and letters that will help you focus on precision and get comfortable with the movements of hand sewing. We also have sewing machine practice sheets for straight lines and curves, which will help you speed up your machine sewing with far fewer errors, just like the pros.

Plus, how about a no-sew printable that will still spark your inspiration and creativity? Play this Sewing Mad Libs Printable PDF (shown) to start your next sewing adventure on the right foot.
Home Sewing Projects for Beginners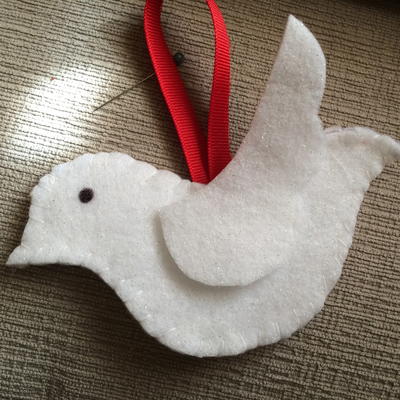 You don't have to be an expert sewist to have a house that looks straight out of a Crate & Barrel display. Even beginner sewists can use these printable patterns to give their homes a style update, from the living room sofa to the bedroom walls.

Decorating your home for the holidays? There are patterns for that, too! Sew up the jolliest Christmas decor you've ever seen with this simple list. Deck the halls in everything from DIY stockings to Christmas ornaments, like the Easy Dove Christmas Ornament (shown), that will have your Christmas party guests in stitches.
Printable Clothing Patterns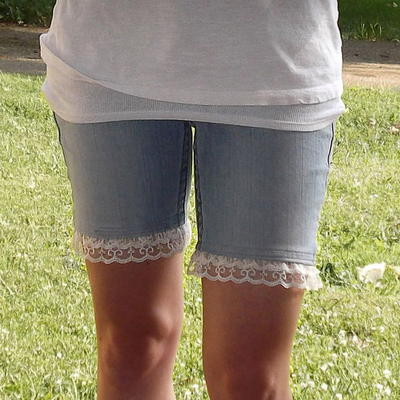 When you began sewing, there's a good chance you did so in the hopes that you'd one day be able to sew your own wardrobe. You don't have to have years of sewing practice to whip up couture pieces.

Be the most stylish guest at any summer potluck, beach bash, or friendly hang-out with these printable clothing patterns. Rather than being at the mercy of department store trends and ill-fitting sizes, you can have a personalized fit for every item of clothing when you make it yourself.

These patterns don't even require you to go out and buy yards of new fabric, either! Ingenious tutorials, like the Stunning DIY Lace Shorts (shown), refashion clothes you already have to give your existing wardrobe vogue vibes.
Sewing Patterns Accessories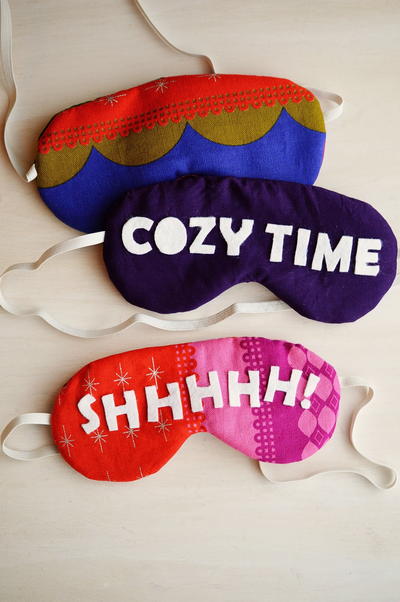 No wardrobe is complete without the proper accessories, but you don't have to pay through the nose to have tasteful accouterments. With these free accessory printable patterns, you can have farmer's market-ready totes, road trip sunglasses cases, and even a lip balm carrier that will eliminate all bag-packing frustration!

Accessories don't just have to have an aesthetic purpose, either. In this cozy collection, you can even sew spa day accessories that will have you in the lap of luxury in your own home! Make a sleep mask, like the Sweet Dreams Sleep Mask Pattern (shown), and you'll have the best beauty sleep of your life.

No matter whether you're sewing up these DIY accessories as a gift for your BFF or to treat yourself, you'll have a blast sewing them. Stress-free, gorgeous, and oh-so-fun, these accessory patterns will be your favorite sewing projects this season.
Free Printable Sewing Patterns for Kids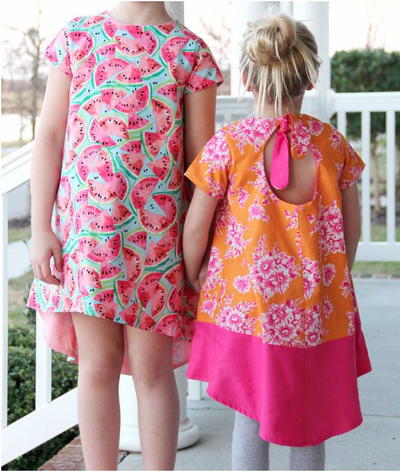 Every budget-conscious mom knows how expensive buying kids' clothes can be. With little guys seeming to shoot up inches overnight, buying clothes can seem like a constant chore. Cut your clothing expenses in half with these free, printable kids' sewing patterns!

Your kids will call you Super Mom when they see all of the treats you sew up for them. They'll have the coolest back-to-school look when you sew up trendy pieces, like the Knotted High-Low DIY Dress (shown), and you won't have to pay department store prices.

Not only does this collection include regular kids' clothes, but it also has a few dress-up patterns, too! Your little ones will have endless fun playing as superheroes, princesses, and butterflies in these DIY costumes.

If you want, these sewing patterns are so simple that even your kids can join in on the fun! Let your kiddos try a spin on the sewing machine with these beginner patterns, and they'll fall in love with the craft as much as you have.
Easy Baby Sewing Patterns
When you already have to pay for diapers, binkies, and baby food, the last thing you want to do is spend a fortune on baby clothes. Plus, when you buy pieces for your baby, you can't give them with the same amount of cutesy personalization as you can when you make them yourself.

Show how much you love your little ones by sewing them clothes and bibs that they're guaranteed to like! Sew up clothes that your baby can wiggle in all day long, like the Cuddly Cute Baby Pants Pattern (shown), or bibs that will keep clothes clean even after a run-in with SpaghettiOs.

You don't have to leave your baby's comfort and safety to the chance of big-name store products. Sew pieces with fabrics, cuts, and materials you trust. You don't have to worry about whether pieces are safe for your little miracle when you make them yourself! 
Your Recently Viewed Projects