What are the Different Types of Dresses?
With our types of dresses guide, you can put the name with the cut and know your dresses for sewing or shopping!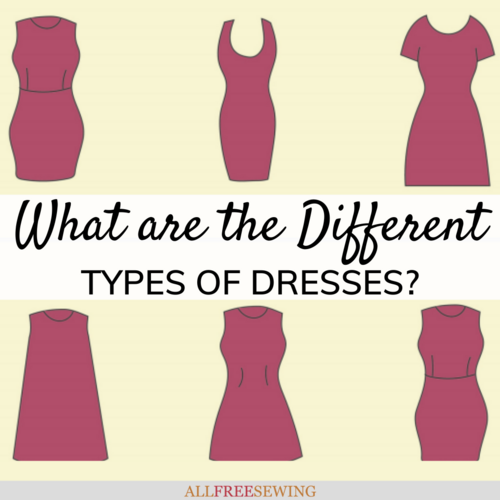 If you sew clothing (or simply like shopping and fashion), knowing the names and features of the basic dress shapes is extremely helpful. With this guide, What Are the Different Types of Dresses?, learn everything you need to know about dresses.

This will make finding and sewing patterns easier, inspire creativity, and make choosing fabrics simpler. But there are so many terms and subtle differences between dresses that it can be overwhelming.

Here is a general list of the various kinds of dresses, organized in alphabetical order so it's easy to browse!

You will probably recognize most of these but you may not know the name or style nuances. That's why we are not only providing the names of dresses but also with pictures so that you can put a name to the cut.

We are continuously adding more dress types as well, such as the simple sheath dress, little cocktail styles, and the (literally) classic tunic. Knowing the different kinds of dresses will help with many aspects of sewing and pattern-making. Here are five additional types of dresses that you may consider for your next sewing project!

As a bonus, scroll down to download our illustrated Dress Styles and Necklines infographic that you can download and use for your next dress sewing project.

Interested in more helpful information and inspiration? Sign up for our free newsletter!             
Want More?
Know Your Skirts Guide >>

When it comes to understanding "what are the different types of dresses?", what is your favorite type of dress we've shared?
Let us know in the comments below!
Your Recently Viewed Projects